Years before Covid19 pandemic escalated, some people started working remotely. And those who didn't, probably dreamed of being able to work remotely some of the time for the rest of the career. It's pretty convenient for employees but is it productive? In addition, do you even know which workers are productive, which are not? In this text, let's explore the ongoing trends and how SearchInform TimeInformer can help you with measuring productivity of remote workforce.
A survey conducted by Gartner, including 317 CFOs and business leaders, found that 74% of enterprises plan to move at least 5% or more of their previously on-site workforce to permanently remote positions. The biggest factor driving this permanent change was the cost-saving benefits of working from home which comes from the reduction of both on-site technology spend and significantly reduced costs in real estate expenses.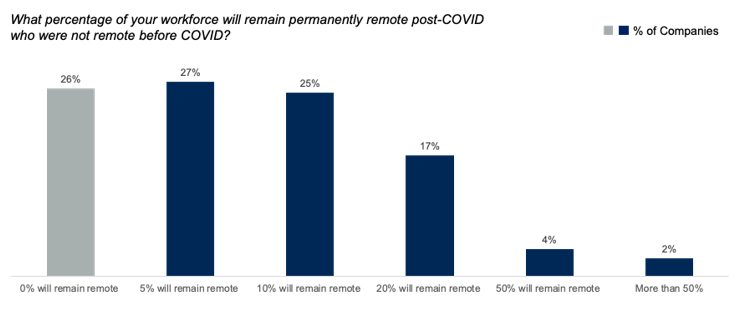 The World Health Organization officially declared Covid-19 a pandemic on March 11. Within a few weeks, an estimated 16 million U.S. knowledge workers had switched to working remotely to flatten the curve of the health crisis, according to a new survey by Slack.
Productivity: The data shows us that newly remote workers are struggling to stay productive. Nearly one-third of newly remote workers say that working from home has negatively affected their productivity, compared with only 13% of experienced remote workers. It's worth reiterating here that the vast majority of newly remote workers moved to home offices because of Covid-19. Many are juggling family responsibilities and radically new lifestyles with their jobs, so it's reasonable that productivity would take a hit.
As an example, you can't expect parents working from home with kids or people without office room working from their bedroom to be as productive as in office. On contrary, people who meet these three requirements: have no kids, have a room that wasn't their bedroom and have quality broadband internet – are likely to be overloaded with work, so you might want to stop that as well.
How can you track productivity and react properly?
TimeInformer informs you of employees' productivity and performance. The software keeps track of user activity and their work with applications. It protects both your business from inefficient work and financial loss caused by a staff and at the same time also protects employees from being over-burned with work.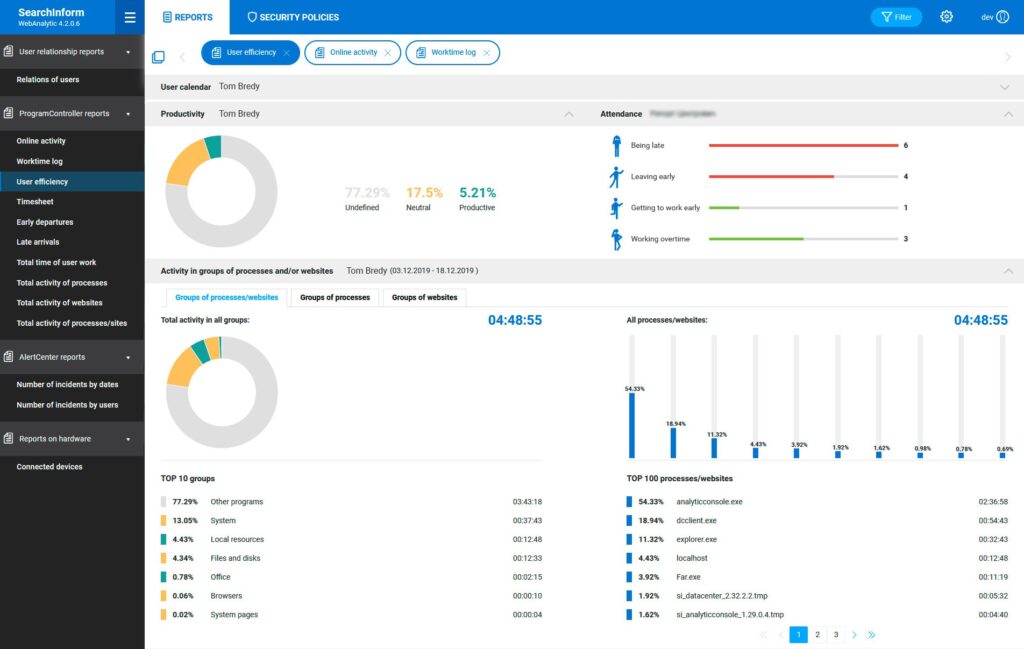 Activity reports display information on employees' productivity, their activity in launched applications or on visited websites with performance during the work hours. TimeInformer incorporates 33 pre-configured reports and the ability to create custom reports as well as to configure forwarding of reports to the manager's email.
Detect late arrivals and absence: memorizes the time of arriving at and leaving from work, long smoke breaks, being late and absent
Detects entertainment during work hours: collects data about application and website usage, records time employees spend using them so you can easily detect and set alerts if it was productive or non-productive time.
Detects active usage of work applications: determine whether an application was only launched or actively used (helps track false positive)
Overloaded employees: identifies employees on the verge of a burnout due to working overtime
Automation: automatically sort out productive, unproductive activities and those not related to the tasks
Reporting: create detailed reports on employee activities and corporate regulations violation
Fore more info, feel free to contact me anytime at [email protected] or visit TIMEINFORMER web page.
TIMEINFORMER – because TIME is MONEY!