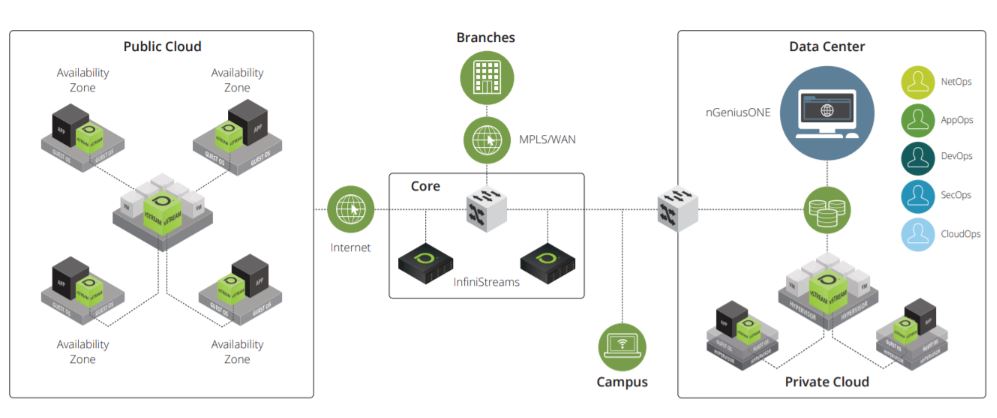 The majority of corporate enterprises today have multi-cloud strategies that support revenue – and customer-enhancing business services.
Often, critical applications have components running in these multiple domains, increasing the complexity and risk when issues occur. In fact, according to a 2019 EMA survey, multi-cloud is now become standard practice, with more than 80% of companies responding using two or more IaaS providers.
Pinpointing root cause of degradations in such situations can be complicated and time consuming. With so many domains to consider, equipment and service vendors involved, combined with the lack of consistent, pervasive monitoring and analysis, valuable time can be lost as each party attempts to claim innocence while the problem persists.
HYBRID CLOUD IS DRIVING DIGITAL TRANSFORMATION END-TO-END NETWORK VISIBILITY
A key driver in today's digital transformation is cloud computing. Digital transformation is impacting every sector, from retail to financial services, manufacturing to heavy industry. And as a result of the cloud, new digital-centric businesses are emerging that are far more agile and innovative than anything seen before. Enterprises are increasingly facing disruption from new, more nimble competitors, while at the same time having to deal with large scale upheaval of their business model. The gauntlet has been thrown – disrupt or be disrupted.
As a result your IT teams face a tough challenge. Your complex, high-speed data center and hybrid cloud infrastructure may not be ready for new applications and services if it lacks sufficient instrumentation needed to monitor service performance end-to-end. The vast interdependencies across the entire service stack, including applications, networks, compute, service enablers and databases, along with the introduction of new technologies, could stress it beyond the breaking point.